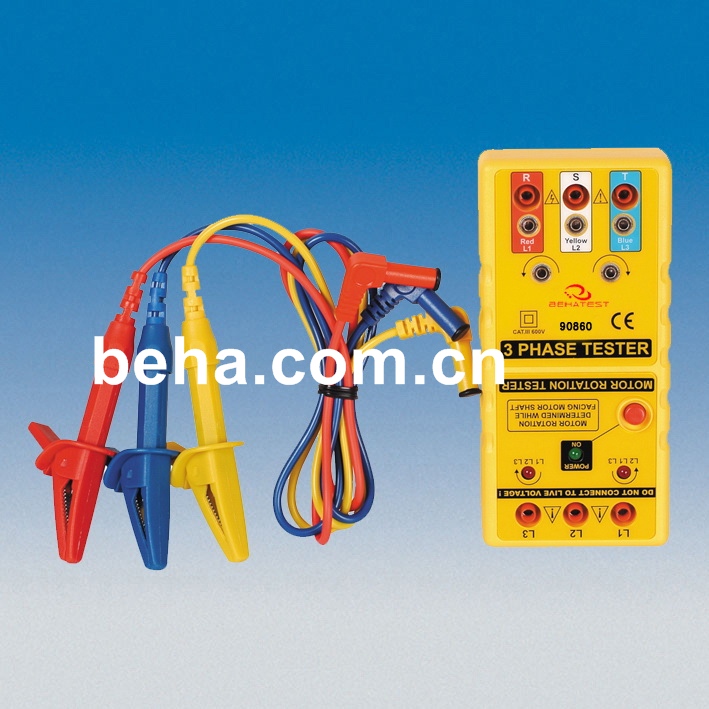 90860 Motor rotation and Phase Sequence Indicator
Model:90860
● Open Phase Indication
● Phase Sequence Indication
● Motor Rotation Indication



Motor rotation and Phase Sequence Indicator

Model: 90860

Determination of the Rotary Field Direction
Within a three-phase system the sequence of the three phases connected determine the rotary direction of the motor connected. The correct phase sequence L1,L2, L3 results in a clockwise rotation.
Open Phase Indication
Phase Sequence Indication
Motor Rotation Indication

Features:
● Three functions in one unit. Including open phase, phase sequence and motor rotation indication
● Large size alligator clips. Can easily clip on switch-boards terminals.
● Highly reliable. Identifies 3 phase sequence and open phase check.
● Functional design. This model is ideal for installing conveyor lines, pump systems and interconnected drivers.
● EN 61010-1 CAT III 600V.

Technical Data:
| | |
| --- | --- |
| Input Voltage | 100-600V / AC |
| Frequency Range | 45-70 Hz |
| Circuit Structure | All electronic (not mechanical) |
| Power Supply | 1 x 9 V, IEC 6LR 61 |
| Power Consumption | 14mA of motor rotation field tester |
| AC Power Consumption | Approx. 7 mA |
| Safety complying | EN 61010-1 |
| Measurement category | CAT III 600V |
| Dimensions | 153 x 72 x 35 mm |
| Weight | Approx. 200g (battery included) |

Scope of Supply:
1 pc Phase Sequence Indicator 90860
3 pc Safety Test Leads
With
Crocodile Clamps
1 pc Battery 9 V, IEC 6LR61
1pc carry bag
1 pc Instruction Manual

Operation of Motor Rotation Tester