Information about luxmeter

Information about luxmetersFor all works, a sufficient brightness is required which is being achieved by good illumination. An insufficient illumination generally leads to symptoms of fatigue and may lead directly or indirectly to occupational accidents. According to the assignments, different illuminations are recommended by the boards of standards. For simple works, illuminations from 100 to 250 lux are sufficient, for precision works more than 1000 lux are required.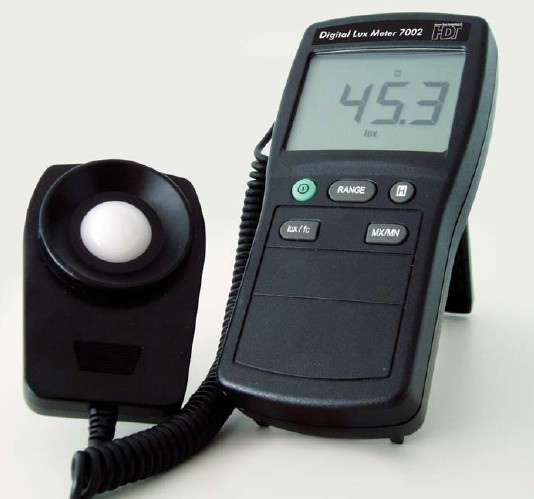 | | |
| --- | --- |
| | Nominal illumination in Lux |
| Stores with large storage goods | |
| Stores with searching assignment | |
| Stores with reading assignments | |
| | |
| | |
| | |
| | |
| | |
| | |
| | |
| | |
| Rooms for assembly, test benches | |
| Rooms for the assembly of small parts | |
| Rooms for data processing | |
| Routes in buildings for persons | |
| Routes in buildings for vehicles | |
| Routes in buildings (stairs) | |
| Routes in buildings (conveyor belts) | |
It is the task of planers, architects and electrical engineering technicians not only to calculate and to install the lighting installation,but also to prove by measurements that there is sufficient illumination. But also within the maintenance of buildings or servicing of industrial plants, the supplier for the building, the caretaker or the occupational safety specialist have to prove by measurements that there is sufficient illumination.
Operators
The measurement of the illumination is very important for lots of operators:
- Planers of illumination installations
- Architects- Installation companies
- Occupational safety specialists
- Estimators- Caretakers, facility management
Sizes and units of the lighting engineering
Luminous flux is the measuring unit for the luminous power emitted by a source of light.The unit of the luminous power is indicated in lumen (lm).
Illumination E
The illumination E is the luminous flux which impinges on a certain surface. The measuring unit of the illumination E with the unit lux(lx) is the luminous flux (lm) divided by the surface (sqm).
Luminosity l
The luminosity is the measuring unit for the intensity of the light emission of a source of light depending on the direction of the radiation. The measuring unit is Candela (cd).
Light density L
The light density L stands for the effect of brightness of a bright or reflecting surface.The unit is Candela per square meter (L =cd/sqm)
Measurement error in case of illumination measurement
Due to the formation of shades and reflections of items and bodies, measurement errors may occur. If the sensor is always positioned horizontally and as far as possible from the body, the possible errors will be reduced to a minimum.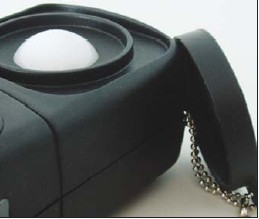 Product page